Arizona leaders help Sonora dedicate safety corridor to Puerto Peñasco
Arizona leaders help Sonora dedicate safety corridor to Puerto Peñasco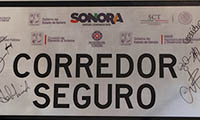 By Tom Herrmann / ADOT Communications
As Sonora dedicated a safety corridor Monday along Federal 8 between Lukeville and Puerto Peñasco, Arizona leaders including ADOT Director John Halikowski (fourth from the right with a white shirt and tie) helped mark the occasion.
Traveling to Sonoyta, just south of the border, these Arizonans joined Sonora officials in recognizing a binational effort that led to the safety corridor.
They noted that Arizonans will benefit from Mexico's safety corridor as they head to the beaches of Rocky Point, while Sonora residents will benefit when they head to Sonoyta and visit Arizona.
This partnership, they said, is about increasing safety and working together with mutual respect.
Resulting from a joint agreement signed by Governor Doug Ducey and Sonora Governor Claudia Pavlovich at a summit held in Rocky Point in December, the safety corridor includes road signs with safety messages in Spanish and English and a pilot program that will have Sonora sharing information from that area to 511 and ADOT's Arizona Traveler Information site, az511.gov.
ADOT representatives visited Mexico to train first responders and government officials on Traffic Incident Management, which promotes quickly clearing incident scenes when appropriate while safeguarding motorists and emergency workers. Traffic Incident Management techniques have been shown to reduce secondary crashes that often are more serious than the initial incidents.
"Our long-standing partnership with Mexico is as strong as ever and this safety corridor between Arizona and Sonora is a great example of how cross-border collaboration helps promote safety and tourism for everyone," Governor Ducey said in a news release. "Governor Pavlovich has been an incredible partner on this safety corridor and I thank her for all of her efforts."