Arizona makes the top 10 for bicycle friendliness
Arizona makes the top 10 for bicycle friendliness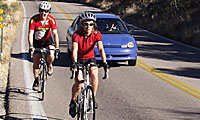 The weather is beautiful right now in much of our state – what better time to step out and explore the scenery on two wheels!
Plus, if you're out riding your bike you can see for yourself why Arizona has been ranked number 10 in the country for bicycle friendliness by the League of American Bicyclists in their annual survey.
That's a jump from number 14 in 2012…
Many factors are considered when ranking a state's bicycle friendliness, including the plans and programs that are in place to keep riders safe and to encourage bike riding.
ADOT constructs and manages the bicycle infrastructure along Arizona's state highway system and has implemented a Bicycle and Pedestrian Program as part of the agency's Multimodal Planning Division. Through this program, ADOT works to make improvements statewide and focuses on three main goals: increasing bicycle and pedestrian trips, improving safety and adding infrastructure.
"One of our most notable accomplishments this past year was the completion of a Bicycle Safety Action Plan to improve bicyclist safety on Arizona's highways," said Michael Sanders, ADOT's bicycle and pedestrian program coordinator. "The goal is to reduce the number of bicyclist fatalities and injury crashes with motor vehicles. We 'crash-typed' nearly 750 reported crashes that occurred over a five-year period to better define the sequence of events leading to the collisions. For example, we found that more than half of all crashes occurred while a motorist was making a right turn. ADOT's new plan consists of action items addressing potential changes to policies and education programs, along with new tools to improve bicyclist safety."
In addition to implementing the Bicycle Safety Action Plan last fall, ADOT is working on updating its Bicycle and Pedestrian Plan this spring. ADOT works in partnership with state and local agencies to develop these plans, and to further education and enforcement efforts to keep bicyclists and motorists safe by sharing the road and learning the rules of the road. Arizona was the second state in the nation to adopt a three-foot passing law in 2000, which mandates that all motorists must give bicyclists at least three feet of space when passing.
Arizona's strong showing in the national rankings is also due to a growing number of people who commute by bicycle and Arizona's solid reputation as a destination state for bike tours. The League of American Bicyclists has also designated nine bicycle friendly communities throughout Arizona. Those areas include Scottsdale, Tempe, Mesa, Chandler, Gilbert, Tucson and the Eastern Pima County Region, Sedona, Cottonwood and Flagstaff.
The League of American Bicyclists is a national organization that promotes bicycling for fun, fitness and transportation, and works through advocacy and education for a bicycle friendly America. The league represents the interests of the nation's 57 million bicyclists, including its 300,000 members and affiliates. For more information about the league and the 2013 ranking of bicycle friendly states, visit bikeleague.org.