Arizona wins best license plate award for centennial design
Arizona wins best license plate award for centennial design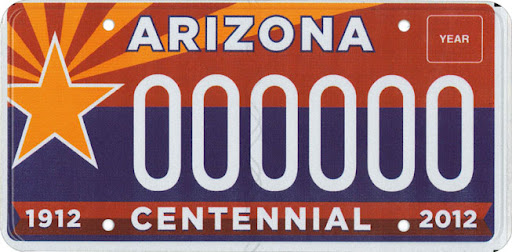 Who says a license plate can't be well designed and even beautiful?
Not the Automobile License Plate Collectors Association, that's for sure. This group is the world's oldest and largest nonprofit organization devoted to researching, collecting and promoting license plates.
Since 1970, ALPCA has sponsored the annual best license plate award program and this year the group has decided that Arizona's centennial license plate is the best new plate in the nation!
"I am pleased to announce that the great state of Arizona is this year's recipient of ALPCA's Best Plate Award," said ALPCA President Greg Gibson in a news release. "Arizona's outstanding Centennial plate topped plates from nine other states. … Congratulations to the residents of the Grand Canyon state, Governor Jan Brewer and to the license plate design team in Phoenix."
According to the ALPCA, plates are judged on overall attractiveness of the design and the plate's legibility (it's got to serve its purpose, after all!).
ADOT's Special Plates Manager Michael Meier said this is a big honor, one that Arizona received only once before – in 1996 for its general issue plate.
"I think it was a combination of the simplicity of its design and the fact that it recognizes Arizona's centennial," Meier said of what made the plate stand out.
According to MVD statistics, 4,533 of the centennial plates have sold as of the end of March … the plate was first made available to motorists in late October 2011.
Find out more about ALPCA by visiting their website. You can also get some additional information on how specialty plates are handled in Arizona by checking out this blog post from last year.