Arizona's Voluntary Travel ID is here, but there's no rush
Arizona's Voluntary Travel ID is here, but there's no rush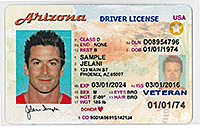 By Ryan Harding / ADOT Communications
We shared this week that Arizona's Voluntary Travel ID is here. And we also shared that there's no rush to get one.
In case you're wondering what a Travel ID is or why there's no rush, here's the information you need ...
The Voluntary Travel ID is Arizona's credential that complies with the federal REAL ID Act passed by Congress back in 2005. The federal law set forth minimum security standards for state-issued credentials presented at federal buildings and security checkpoints like airport security.
Identified by a gold star in the top right corner of the ID, the Voluntary Travel ID will ensure you can get through airport security to board your flight or enter federal buildings and military bases.
"But wait," you say. "I'm flying for vacation or business later this year. Should I come get one right now?"
Nope. There's no rush. You see, now that we have the Travel ID available, the U.S. Department of Homeland Security has said it will extend the use of current Arizona credentials at airport security and federal buildings until Oct. 1, 2020. So you have some time to decide if and when to get one.
Considering getting one anyway? Then check out our Voluntary Travel ID site.
Also, check out our public service announcement below for a quick overview on the Voluntary Travel ID. You might see it air on local TV stations, but you can tell your friends you saw it here first.