Autonomous vehicles are in Arizona, and ADOT is on board
Autonomous vehicles are in Arizona, and ADOT is on board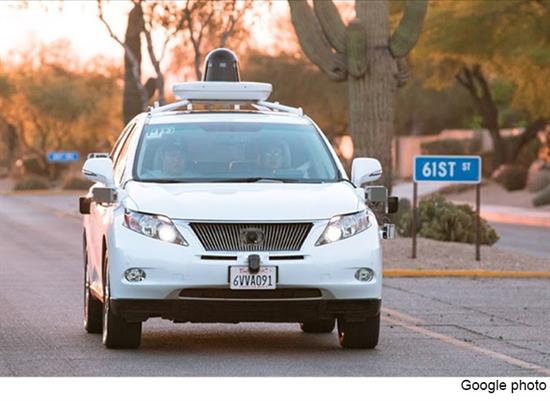 By Gant Wegner / ADOT Communications
Have you heard the news?
Ford Motor Co. announced its plan to sell self-driving cars by 2025. The ride-sharing company Uber is letting customers in Pittsburgh get a lift in a self-driving sedan or SUV. Google's engineers have had their hands off the steering wheel for 2 million test miles on public roads in four U.S. cities.
These "autonomous" vehicles ‒ cars that operate independently without human control ‒ will ultimately have the intelligence to safely navigate streets and highways all by themselves.
No steering wheel, brake pedal or accelerator pedal. You and I will just be along for the ride.
This futuristic form of transportation is happening now in Arizona, where a hotbed of autonomous vehicle research and development is centered in the Phoenix region. Ford is driving toward its 2025 goal by putting autonomous vehicles through the paces at the company's test track near Wittmann. Google's cars are on the streets of Chandler and Ahwatukee to see how well their self-driving vehicle technology handles the challenges of sun glare, extreme heat and "haboob" dust storms (we trust the cars will Pull Aside and Stay Alive). General Motors has a technical innovation center hopping with activity while self-driving prototypes of Chevrolet's brand-new Bolt electric vehicle are quietly zipping around Scottsdale. A company called Local Motors even created an autonomous shuttle bus named Olli with an amazing 3-D printer. In Tucson, the University of Arizona partnered with Uber to develop mapping technology for the company's autonomous vehicles.
Why all the fuss to develop self-driving vehicles?
Autonomous vehicles will change the face of personal transportation. They have the potential to virtually eliminate crashes – the ones killing about 35,000 people each year in the United States and 891 people in Arizona in 2015. Reducing the number of crashes will prevent the traffic congestion they cause. Computer-controlled cars won't drive drunk, distracted or dangerously … and, we hope, not engage in road rage.
Self-driving vehicles offer mobility to blind and other disabled people who can't otherwise drive themselves. The vehicles are more energy-efficient because their computers can determine the best route and speed to maximize efficiency.
At ADOT, we embrace the new technology. As a member of the Arizona Self-Driving Vehicle Oversight Committee ‒ created by Governor Doug Ducey in 2015 ‒ ADOT is partnering with public safety and policy experts to determine how best to advance the operation of autonomous vehicles in our state. Our agency is experimenting with intelligent transportation system technologies that would allow self-driving cars to communicate with each other and connect with the transportation system. ADOT also has a seat at the table with auto manufacturers, technology companies, other states and the federal government to ensure we are on the same page moving forward with the evolution of autonomous vehicle transportation.
Our efforts are examples of the continuous improvement culture at ADOT that pushes us to be a high-performing organization.
The next few years are shaping up to be exciting ones for transportation. Stay tuned!