Back-to-school means brushing up on school bus etiquette
Back-to-school means brushing up on school bus etiquette
By Ryan Harding / ADOT Communications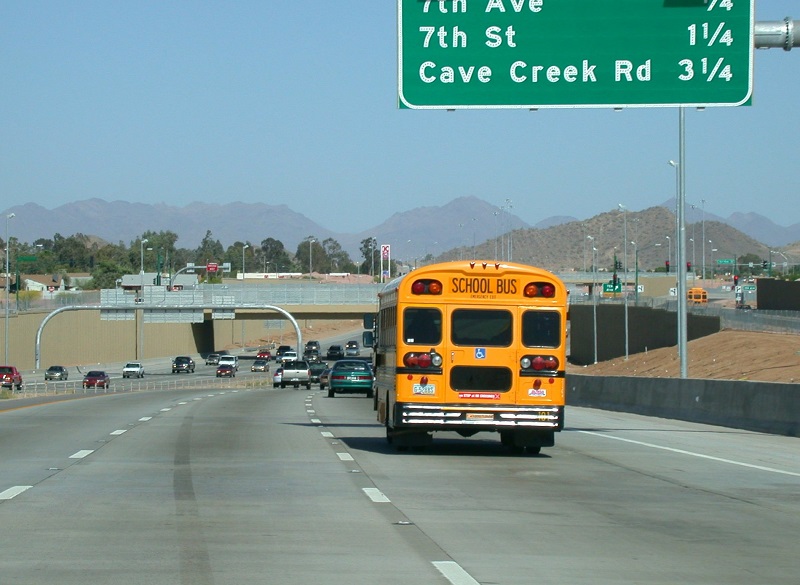 Drivers, with another school year upon us, it's time to review school bus etiquette – namely making sure to stop and wait when the stop sign arm on the bus is activated.
It's important to obey the stop sign in order to allow students getting on and off the bus a safe space to cross the street. About 13,000 motorists each year are reported by Arizona school bus drivers for not stopping as required.
ADOT recently refined the process to make it easier for bus drivers to report drivers who run the stop sign. Using an online form, bus drivers can send a complaint of a stop sign violator directly to ADOT's Motor Vehicle Division. MVD then sends a notification letter, which is not a citation, to the vehicle owner as an effort to call attention to the seriousness of running the stop sign.
Previously, school bus drivers would fax forms to the Arizona Department of Public Safety, which then emailed or faxed the reports to MVD. Those reports would often come in batches and be difficult to read. Using an online form removes DPS from the process and makes the submission electronic.
Drivers, your homework is to review the penalties for passing a school bus when a stop sign arm is extended, which could be a civil penalty and possibly a suspended driver license – not to mention putting the safety of students at risk. 
Also, make sure to not give the school bus driver a reason to report you by waiting until the stop sign arm is retracted.
Class dismissed.