With blasting over, no more Pinto Creek Bridge closures for now on US 60
With blasting over, no more Pinto Creek Bridge closures for now on US 60
By Garin Groff / ADOT Communications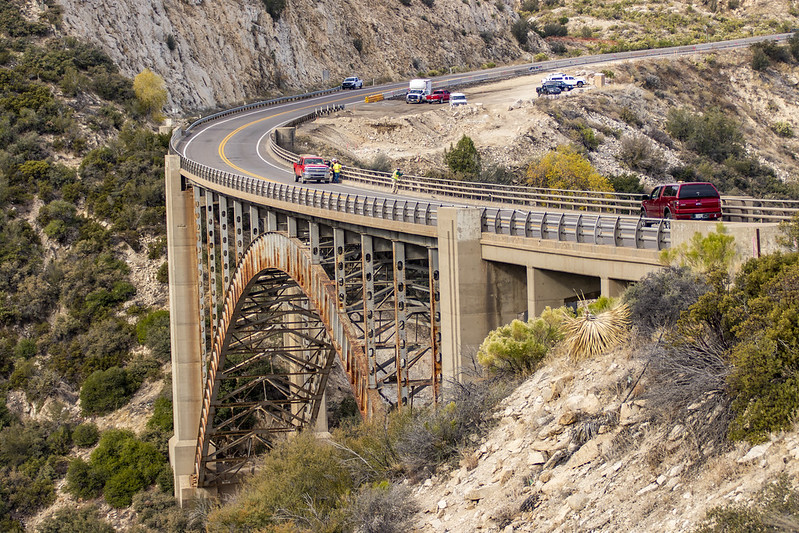 The first major work on the Pinto Creek Bridge replacement project began in early November with a bang – or to be more precise, a blast.
And crews have kept at it ever since, using explosives to blast away solid rock next to the 70-year-old bridge on US 60 between Superior and Miami. But after three months of blasting operations on most Tuesdays and Thursdays, the most dramatic part of the two-year job is complete.
That also means we're done with four-hour highway closures when blasting was underway, ending one of the most significant traffic restrictions expected for this project.
Drivers should still plan for daytime lane restrictions and budget extra travel time between Superior and Miami as crews haul material through the work site. We expect these restrictions to last about four to six weeks.
The Pinto Creek Bridge site will remain a busy area as crews focus on work that includes a new bridge abutment. And crews have established an access road to the bottom of the canyon so they can construct bridge piers. You can see some of the work done so far in the slideshow to the right.
By mid-summer, major work will shift to placing steel girders and pouring concrete. Overnight closures are expected for portions of that work. And toward the end of the project, expect a five-day closure of US 60 as we shift the road slightly to line up with the new structure.
To get the latest information on restrictions for the Pinto Creek Bridge replacement project, please visit azdot.gov/PintoCreekBridge.