Bonus for bus riders at park and ride near South Mountain Freeway
Bonus for bus riders at park and ride near South Mountain Freeway
By Tom Herrmann / ADOT Communications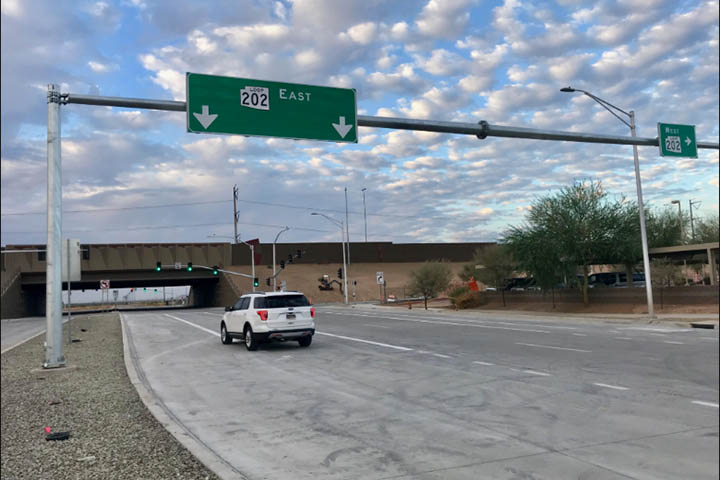 For the past nearly four months, bus riders who use the 40th Street Park & Ride in Ahwatukee have had to work around our work.
As construction crews finished work on the interchange of 40th Street and the South Mountain Freeway, drivers could only access the Park & Ride from the north, coming down from Chandler Boulevard.
Today, not only can drivers access the lot from the south, there's a new way to enter and exit the parking area.
As of Friday, Sept. 6, not only has 40th Street reopened, but so have ramps to the Loop 202 South Mountain Freeway – the first interchange along the South Mountain Freeway to open to traffic. The picture at right shows the interchange in use.
And with the new ramps, there is a new way into the park and ride that should be more convenient for many riders.
The existing entrance to the parking area remains open. Drivers on 40th Street coming from either north or south can enter there, as they always have.
But we've added a new entrance from the westbound on-ramp to Loop 202. About 100 yards west of 40th Street, drivers can turn right into the parking area. At the end of the day, drivers also will have the option to enter the westbound on-ramp through that driveway, which should add convenience for many of those who use the park and ride lot.
There have been – and will continue to be – inconveniences as we finish the largest freeway construction project in Arizona history. We'll continue to make every effort to minimize the disruption to your daily schedules while we complete our work. Thanks for your patience.