A bridge to better picnicking on Mount Graham
A bridge to better picnicking on Mount Graham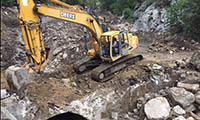 By Tom Herrmann / ADOT Communications
Back in 1935, a little bridge at Wet Canyon helped open up the beauty of Arizona's Mount Graham for hiking, camping, picnicking and all sorts of outdoor activities on Graham County's tallest peak.
Lately, though, the old bridge has been as helpful to picnickers as Yogi Bear's fondness for pic-i-nic baskets.
Monsoon rains of the past two weeks washed debris off the mountain and into the drainage at Wet Canyon. Some of it is from the recent Frye Fire, but it's also from a fire that occurred back in 2004. All of the debris was too much for the 80-year-old bridge, which had only a small opening for water to pass through. The result was flooding that closed some recreational areas and washed away picnic tables from the Wet Canyon Picnic Area.
Arizona Department of Transportation crews had already built a new bridge at this spot on Swift Trail (State Route 366). With cooperation from the U.S. Forest Service and other agencies, ADOT crews removed the old bridge in just two days this week.
Brian Jevas, assistant district engineer for ADOT's Southeast District, shot the before, during and after images above while standing on the new bridge, which is higher and has plenty of room for water and flood debris to get by.
SR 366 remains closed indefinitely at Ladybug Saddle because of storm damage and concerns about flash flooding. Drivers should watch for ADOT and U.S. Forest Service crews in the area.
Recreational areas at Noon Creek, Angle Orchard, Wet Canyon and Turkey Flat are open thanks to some hard-working folks who did fast work with the old bridge this week. Enjoy.