Building a Freeway: Constructing a temporary bypass
Building a Freeway: Constructing a temporary bypass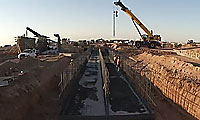 Remember this awesome time-lapse video showing the construction of a temporary bypass at Greenway Road and the Loop 303?
Well, today we've got an even more in-depth look at how crews built the new intersection – complete with temporary barriers, fences and traffic signals – in just about 43 hours! (Take a look at the photos below for an amazing before and after aerial glimpse of the new bypass!)
Having this new intersection/bypass in place is pretty critical for the rest of the work being completed on the Loop 303 (the project is in its second phase and stretches from Mountain View Boulevard to Peoria Avenue).
The temporary intersection not only helps motorists avoid the work zone, but the incorporation of an equipment pass-through will assist crews as they haul an estimated 75,000 loads of dirt away from the site to build the Greenway Road overpass.
"We started back in August working on this knowing that getting Greenway and the 303 relocated on the detour was going to set this project in motion," Loop 303 Project Supervisor Mark Wheeler said.
Check out the video above and you'll see that it took some real coordination to complete the work in such a short period of time (bonus points if you also see the lunar eclipse at about the 1:42 mark).