Building a Freeway: Drainage
Building a Freeway: Drainage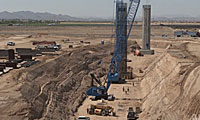 You probably don't think much about drainage when you're driving, but a well-designed drainage system can increase the lifespan of a highway and help keep the public safe.
We'll blog about how these systems are designed and maintained soon, but today we just want to give you a quick glimpse of the types of drainage solutions used on a project like the Loop 303/I-10 interchange.
You can see in the video above that a lot is required to collect and remove water from the roadway …
On this particular project the drainage system consists of storm drain pipes, concrete channels, box culverts and drainage basins. Because so much excavation work is required (more than 1 million cubic yards of dirt had to be moved on this project!), most of the storm drain work is completed early on in the project.
For more on how ADOT builds a freeway, check out some of our other videos and blog posts on the subject.