Building a Freeway: Girder Placement on Hell Canyon Bridge
Building a Freeway: Girder Placement on Hell Canyon Bridge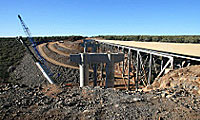 Work on the Hell Canyon Bridge replacement project is really moving along…
As you can see in the video above, crews are placing girders for the new, wider bridge set to replace the 1950s-era bridge that drivers use today.
The work is all part of a $14.4 million improvement project that includes the construction of the new bridge (it'll be a four-span steel-plate girder bridge), the eventual removal of the old bridge and some additional road construction/realignment work to the north and south of the new bridge.
The new 665-foot-long two-lane bridge will feature wider travel lanes and will be approximately 47 feet wide, more than 17 feet wider than the current bridge. The bridge will also accommodate heavier loads, making it more convenient for commercial trucks to carry goods and produce to their final destinations.
This project animation gives a good look at what to expect as the work progresses. See some recent photos of the project on our Flickr page.