Building a Freeway: Pre-wetting the soil leads to solid foundation
Building a Freeway: Pre-wetting the soil leads to solid foundation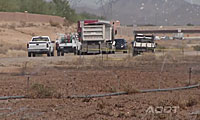 When ADOT has a freeway to build, many steps must be taken long before any asphalt is paved.
One of those initial tasks involves pre-wetting the soil, which entails pretty much exactly what you think it does … crews put sprinkler systems into place and water the dirt!
Just how long crews need to water depends on the type of soil they're dealing with, but usually this step takes a few days.
Pre-wetting the dirt makes it easier to move, helps the crews eliminate dust pollution and allows them to bring the soil's moisture content up to a level that enhances compaction.
If you've ever built a sand castle, you know it's much easier to work with sand that's a little wet (but not too wet). Not only is it easier to build with compared to dry, loose grains of sand, but it also gives your castle a stronger foundation to build upon.
The same principal holds true out in the middle of a road construction site …
Once the soil's moisture content is at the optimum level, the dirt can be excavated and moved to embankments or medians or off the site completely (depending on the project).
Then it's time for compaction. This is done with different types of heavy-duty equipment like rollers, dozers, scrapers and front-end loaders. Compacting the soil creates a good solid base for the road (think of your castle's foundation) and pre-wetting the dirt makes this step easier.
"Water serves a big purpose in compaction," says Loop 303 Project Supervisor Mark Wheeler in the video above. "It gives you the foundation which you build on and that equates to longevity on your roadway."