Building a Freeway: Rubberized Asphalt
Building a Freeway: Rubberized Asphalt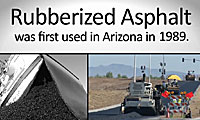 Rubberized asphalt is durable, smooth and uses recycled materials that otherwise would be headed to a landfill ... what's not to like?
ADOT is fond of the stuff for those reasons and more, which is why rubberized asphalt continues to be used on projects around the state, including the Loop 303.
What is rubberized asphalt?
Rubberized asphalt consists of regular asphalt paving mixed with "crumb rubber" (a.k.a. ground up, used tires).
The used tires are processed by separating the casings, fabric and steel. The extracted rubber then is ground to the consistency of ground coffee. Approximately 1,500 tires are used for every lane-mile of rubberized paving.
You should also know that rubberized asphalt is temperature sensitive and cannot be applied during very cold weather or very hot weather. That means rubberized asphalt can only be applied during the spring and fall in the Phoenix area.
Quiet pavement
Did we mention that rubberized asphalt pavement can reduce traffic noise levels by at least four decibels? If you've driven on a roadway paved with rubberized asphalt, you should be able to notice the difference.
OK ... we could go on and on about rubberized asphalt pavement, but we won't. We'll just direct you to the above video that gives a new look at rubberized asphalt. If you want more, head over to ADOT's Quiet Pavement webpage.