Building a Freeway: Thermoplastic Striping
Building a Freeway: Thermoplastic Striping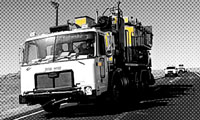 Watch today's video and you may never look at pavement markings in the same way ever again…
Who knew there was so much to understand about these stripes?
A little bit about what you're seeing
Thermoplastic striping is a different than a painted stripe. It's also unlike this striping tape we showed you back in 2011 when a portion of the Loop 303 opened.
Thermoplastic striping is a highly reflective, long-lasting pavement marking material that is resistant to cracking (from freeze and thaw cycles).
You can see in the video above, that the thermoplastic compound must be heated to 400-440 degrees so that it will bond to the road properly.
To make the stripes reflective (so they're visible at night), glass beads are dropped immediately into the thermoplastic material – you might remember reading about how ADOT tests glass beads for reflectivity in this blog post on the agency's structural materials testing lab.
ADOT uses thermoplastic striping for its many benefits, including the fact that it doesn't crack, chip or impact shatter, it's environmentally safe and the process allows for quicker striping.