Building for growth in northern Pima County
Building for growth in northern Pima County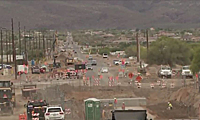 By Tom Herrmann / ADOT Communications
ADOT is on track with a two-year project to rebuild the Ina Road at I-10 into a traffic interchange that will improve traffic flow and safety. As the video above shows, the job site is buzzing with activity.
Right now, we're preparing for new bridges over the Santa Cruz River, building pillars that will carry Ina Road over I-10 and the Union Pacific Railroad tracks. We're also preparing to add a lane in each direction along both eastbound I-10 and along Ina west of I-10.
When we're done, Marana and northern Pima County will have a modern, efficient interchange very much like the one at Prince Road. We're on schedule to reopen Ina Road in early 2019. You can access neighboring businesses throughout the project.