Cameron roadway improvement project moves ahead
Cameron roadway improvement project moves ahead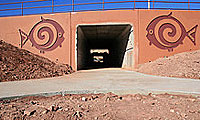 Work is continuing on the US 89 Cameron roadway improvement project, up in northern Arizona.
In fact, as you can see from the photos above, crews are really making a lot of progress on the job. Before we tell you what's been happening on the project, let us first give you some background…
This project kicked off in March and is designed to expand US 89 from two lanes to four lanes through the community of Cameron within the Navajo Nation, about 50 miles north of Flagstaff.
Major work includes the widening of US 89 to two lanes in each direction between State Route 64 and the Little Colorado River (mileposts 464-467) and the removal and replacement of the existing Cameron Truss Bridge with two new bridges (one going north and one headed south) at that location. Additional improvements include constructing a roundabout at the existing intersection of US 89 and SR 64, new sidewalks, streetlights and four pedestrian/livestock underpasses.
Currently, crews are working to open the new roundabout by the end of this year.
The new bridge is also progressing. Crews are getting ready to pour the deck over the next month. Once that is complete and cured (a two-month process), work on the barrier, joints, surface grooving, lighting, fencing, guard rail, paving and striping will take place into late March/early April.
If you live or drive in the area, you'll be interested to know that the new lights will be turned on soon for the east half of the project (you might also have noticed that artwork on the pedestrian underpasses!).
More details
The project is scheduled to be complete by fall 2016. Drivers can expect at least one travel lane to remain open during construction. This project is being constructed in two phases. During the second phase of construction all traffic will be moved onto the newly constructed roadway, which is anticipated to be completed summer 2015.