Poor, misunderstood roundabouts
Poor, misunderstood roundabouts
By Laurie Merrill / ADOT Communications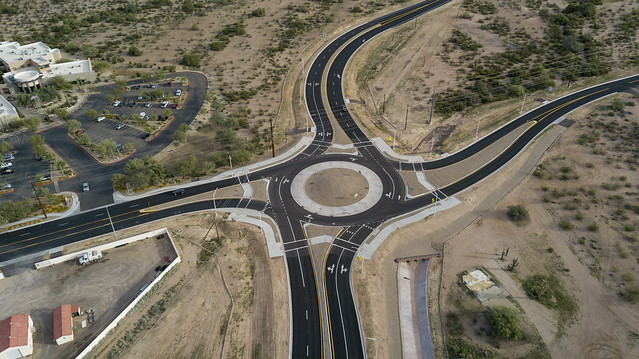 I'll be the roundabout.
The words will make you out 'n' out.
I spend the day your way.
Call it morning driving thru the sound and in and out the valley. -- the band Yes from the song, "Roundabout."
Poor,  misunderstood roundabouts. Long beloved by motorists in France and Britain, they have yet to become universally appreciated by American drivers.
This, despite the fact that with a roundabout, you don't have to stop and be at the mercy of a traffic light. Because you keep moving, you reduce traffic backups, save money on gas and cutback on pollution.
Also, you can't get lost. If you miss your turnoff, you can simply circle back. You know, like Chevy Chase's character did in "National Lampoon's European Vacation," where he circled so much around a London roundabout that everyone in the car fell asleep.
This week, the third in September, is 2021 National Roundabouts Week, designated as a yearly event by the Federal Highway Administration. The agency wants to promote the significant benefits of roundabouts as proven safety countermeasures.
Here are some of those benefits, according to the Insurance Institute of Highway Safety:
90 percent reduction in fatal crashes
75 percent reduction in injury crashes
30-40 percent reduction in pedestrian crashes
10 percent reduction in bicycle crashes
30-50 percent increase in traffic capacity
Reduction in fuel use and pollution
No signal equipment to install and repair
Quieter neighborhoods
Did you know that the French love roundabouts so much that they have 30,000 of them? And, Britain is right behind with more than 22,000?  
Arizona has about 80 roundabouts, more than a dozen of which are in the Sedona/Oak Creek Canyon area. The United States had more than 7,100 as of a 2019 tally.
They say the U.S. is usually a step or two behind European fashion, so this isn't surprising.
But the green lights are on: Roundabouts around Arizona help traffic keep moving!
Along Arizona's highway system, you can find roundabouts at the Estrella Parkway interchange along South Mountain Freeway, on State Route 88 at Superstition Boulevard, and on Interstate 8 at Araby Road in Yuma, just to name a few recent additions.
You can learn more roundabout safety facts and navigation tips on this dedicated page on our website.