Celebrating the short-lived copper license plate
Celebrating the short-lived copper license plate
By Laurie Merrill / ADOT Communications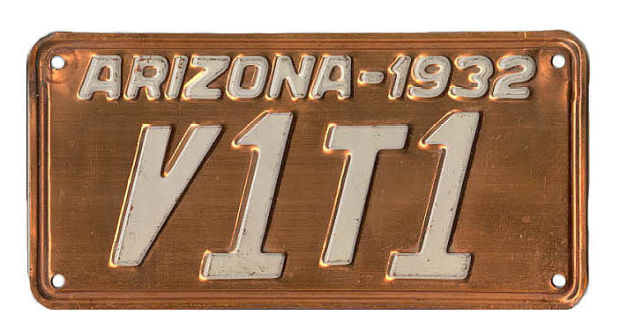 On this date in 1931, the Arizona Highway Commission authorized using copper license plates for automobiles.
We talked about this distinct era in the state's license plate history in a blog last year, but for the 89th anniversary, here's the gist:
The idea was a product of supply and demand. The metal was plentiful, but the price had plunged during the throes of the Great Depression. 
"The red metal has suffered greater during the present depression than any of the industries, copper having reached a lower price level than at any time since it has become one of the great commercial metals," according to an Arizona Highways magazine article printed in September 1931.
"The result has been that all of the copper mines in the state have either gone on a greatly curtailed basis of production or have entirely closed down, thus throwing thousands of miners out of work, with the result that the entire state has been seriously affected."
With this in mind, the commission approved the plates as a way to help the copper industry get back on its feet. Only 400,000 residents called Arizona home at the time and only 112,000 vehicles were registered. Still, that meant more than 70,000 pounds were used to produce the plates in 1932. It apparently didn't have the desired impact, as Arizona only continued making pure copper plates for a couple more years before the experiment was dropped.
Not many copper license plates have survived in good condition, and those that have are collectibles. You can find and purchase them online – for a pretty copper penny.