Chronicling the Old MVD Building's 100 years
Chronicling the Old MVD Building's 100 years
By Lori Baker / ADOT Communications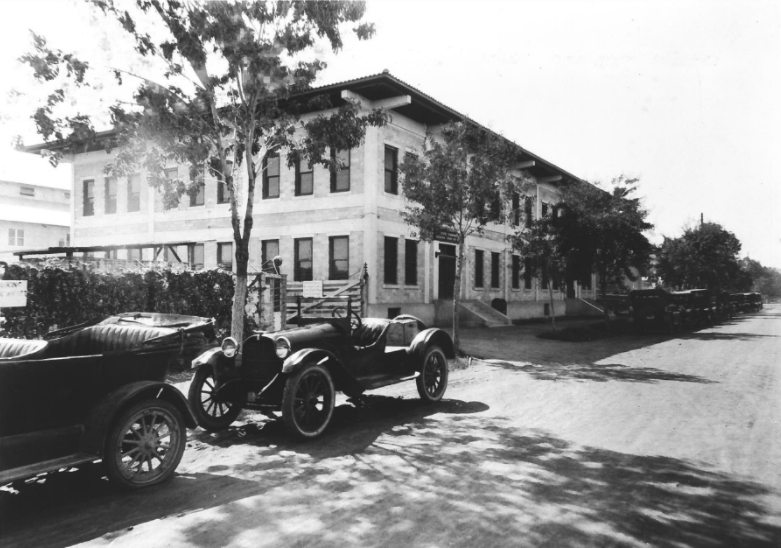 For ADOT Condemnation Team Leader Ron Middlebrook, the Old MVD Building was more than just a place where Right of Way records were stored.
He became intrigued about the building's history during his frequent visits to manage documents from 2005 until 2018 when files were relocated because the Old MVD Building on 17th Avenue in Phoenix, was closed due to fire safety issues.
Middlebrook's interest didn't stop then. In fact, he decided to write a report about the Old MVD Building as a way to celebrate its centennial in 2021.
When he began his quest in 2018, he planned to write about 10 to 20 pages. But it turned into a labor of love, resulting in a 342- page report. "Report on the Old MVD Building: Its First 100 Years" is posted on the Arizona State Library's Arizona Memory Project web page.
Extensive research
Middlebrook did most of his research on his own time. He pored over thousands of old photos and documents from the ADOT archives, Arizona State Archives, Maricopa County Assessor, city of Phoenix and more.
He combed through prior issues of Arizona Highways magazines and newsletters, and The Arizona Republic and its predecessor, the Arizona Republican. To help fill in gaps, he spoke to long-time ADOT employees like Hazardous Materials Coordinator Ed Green, who has worked at ADOT for over 50 years.
Since there was no funding to print the historical photos, Middlebrook paid for them at his own expense.
"When I saw all of these undeveloped negatives with such great images in ADOT's photo archive, I knew that my report would not be complete without them," Middlebrook said. "I'm still stunned that the old negatives with images from the 1920s were still as good as they are."
Most of the report is filled with historic photos showing the building's expansions and the employees who worked there spanning decades.
Middlebrook enjoyed creating then-and-now comparisons of the interior and exterior of the building.
"I enjoyed standing in places depicted in old photos and looking at how those places had changed and why," he added.
Right of Way Titles Manager Steven Channer praised Middlebrook's comprehensive report.
"Ron has always been a font of detailed critical knowledge. His attention to detail, and his ability to break down complicated and complex concepts into easily understandable terms shows through on this report," he added.