Collaboration among state and local agencies … a winning combination
Collaboration among state and local agencies … a winning combination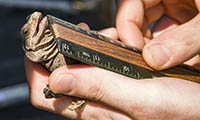 By John Halikowski / ADOT Director
The principles behind the Arizona Management System (AMS) are being implemented on a daily basis at the Arizona Department of Transportation. AMS is Gov. Doug Ducey's initiative to transform state government as a results-driven enterprise and to add value in addressing customer needs. I have written about the improved customer experiences at our Motor Vehicle Division offices with reduced wait times and expanded online services. I've shared how ADOT has incurred operational savings when our employees have designed and implemented solutions with graffiti shields, repairing guard rail and refilling an herbicide truck; and offered safety and training programs at our international ports of entry that translate to safer trucks on our roads.  Now I would like to share our success in collaborating with other state and local agencies that have resulted in meeting customer needs and saving taxpayer dollars.
The Arizona Department of Corrections needed to improve a dirt track at the Perryville Prison. This track is used for food delivery, prisoner transport and other vehicle traffic within the prison complex. Corrections personnel contacted ADOT to see if we had any extra asphalt millings that could be used to create a more durable surface for this track. Rather than spend millions of dollars in dump fees to dispose of this type of material, our Central District and Avondale Maintenance crews worked closely with Corrections personnel to deliver 18 dump trucks and 650 cubic yards of material, along with personnel to help repair the dirt track. It's a win-win situation for both agencies. There is a more durable track at the Perryville Prison and ADOT has saved big bucks in dump fees.
When forest fires erupt in Arizona, there is a lot of coordination that must take place among state and local agencies to fight fires, evacuate residents and visitors, and protect structures and wildlife.
Few people may realize that ADOT is one of those agencies called upon to provide emergency management services. We have crews that help with traffic control to ensure public safety personnel (firefighters, first responders, etc.) can do their jobs safely and residents/visitors can evacuate and travel to safe areas.
Our emergency management teams can provide services at a moment's notice when time is of the essence.
ADOT has collaborated with Arizona's Game and Fish Department for many years. We have worked together to protect wildlife like bighorn sheep, deer, and other desert creatures with animal crossings on US 93 in Mohave County, State Route 260 near Payson and State Route 77 near Tucson.
Recently, one of our maintenance crews assisted Game and Fish in relocating a brown bear near the Salt River Canyon rest area in Gila County. Needless to say, this bear realized this rest area wasn't Jellystone Park.
Besides being problem-solvers, ADOT employees are collaborators.
I am very proud of the efforts our employees have demonstrated in finding solutions and addressing customer needs, and saving taxpayer dollars while working with state and local agencies. It is indeed a winning combination.
---

This post originally appeared on ADOT Director John Halikowski's LinkedIn page. He has led the agency since 2009.