Community pride and the kitchen sink: Meet the Prescott Litter Lifters
Community pride and the kitchen sink: Meet the Prescott Litter Lifters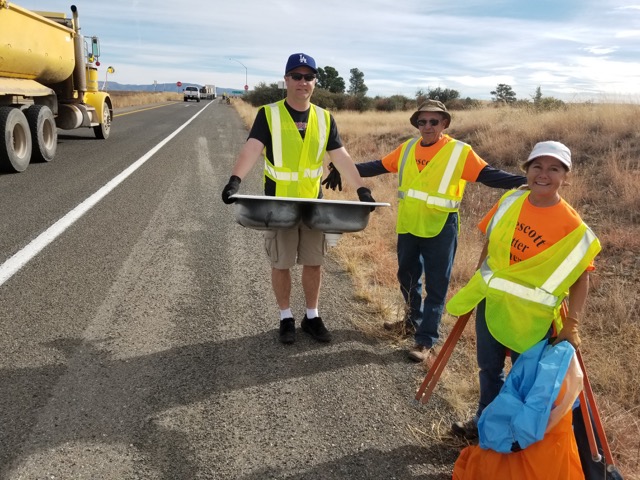 By Mary J Currie / ADOT Communications
The term drop-in kitchen sink may sound familiar if you are into home remodeling. If you belong to the Adopt a Highway group Prescott Litter Lifters, a household item or appliance dropping into the right of way is, well, expected. You just never know what trash-du-jour awaits along the roadway.
This all started when I received an appreciative response from Farrish Sharon for posting a Secure Your Load article in the Adopt a Highway Summer Newsletter. Attached was the photo above showing a volunteer hefting a kitchen sink. She thanked me for reminding people to cover their loads and was not a bit surprised to hear that roadside debris causes 51,000 crashes in the U.S. annually.
Prescott Litter Lifters' roots date back to 1981. Farrish and co-manager Nancy Piehl are the current leaders of 30 volunteers. It is not uncommon to meet a 10-year or even 20-year participants in this group. One dedicated volunteer recently retired at age 91. A few of the members have engineered creative and more efficient ways to pick up litter over the years, like inventing custom pick-up sticks adjusted to height, with grabbers at the end made of recycled bottle caps. And trash bag holders involving hoops that prevent the wind from closing the bag as you are filling it up. Genius, I say.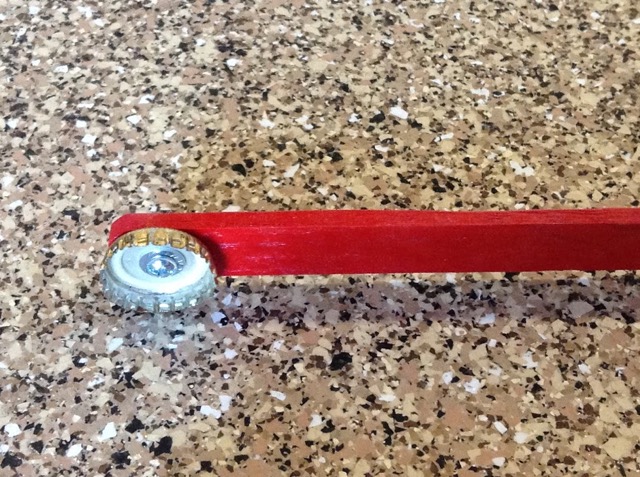 Retired from a 40-year nursing career, Farrish said the clean appearance of Prescott was one reason she and her husband moved to the area. They like seeing their city get clean and have shown their pride through Litter Lifters for more than five years. Nancy and her husband were involved in an adopt-a-street group in Phoenix. Shortly after moving to Prescott they saw an ad in The Daily Courier seeking volunteers to join the Prescott Litter Lifters. That was 10 years ago. "We've met the nicest people here who care about the environment!" she says.
The tremendous leadership shown by this dynamic duo really shone through during my conversation with Farrish. Two days a week on alternating days, she and Nancy are either leading a group or participating as volunteers. The teams lift litter for one-hour – max. And pleading for more time to continue is not approved. What?
Farrish recalled one particular outing where the group came upon a badly trashed area near a bridge. The end of the hour was nearing and she declined to allow the group to go forward, explaining that what is left behind today will be there next time. She cares for these volunteers and realizes there is no end to the litter. While it may seem like a good idea at the time, extra hours on the roadside may create safety issues, exhaustion and burnout. She wants them to return, so it is important to focus on the achievements of the day and share the bag count with them. The volunteers want to know how much trash they have removed from the roadside in order to measure their accomplishments.
What is even more impressive about Farrish and Nancy is the level of organization they bring to the group. Litter bag counts and volunteer hours are calculated, and volunteers are provided a monthly schedule revealing the dates, locations and meeting areas. These two make it look easy. What's more is they will gladly mentor those interested in organizing their own groups.
It is not uncommon for this team to meet after each event for coffee at a local diner, Farrish says. Someone usually runs ahead to grab seats. What better way to connect with the volunteers, share the morning's litter collection totals and talk about everything, including the kitchen sink.
Prescott Litter Lifters collects litter over 60 miles of city, county and state roadway around Prescott in 27 locations each week of the year. Volunteers are always welcome. For more information, visit http://prescottlitterlift.wixsite.com/prescottlitterlifter.
---
EDITOR'S NOTE: The author oversees ADOT's Adopt a Highway volunteer program.