Counting down to an upgraded State Route 88
Counting down to an upgraded State Route 88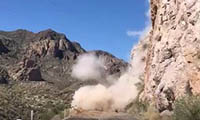 By David Rookhuyzen / ADOT Communications
In June, roadwork in central Arizona can be hot and arduous. But, in the right situation, it can also be a blast – or at least involve a blast (apologies for the pun; it was unavoidable).
Such was the case last week when crews used explosives to remove some overhanging rock as part of an ongoing project to improve scenic State Route 88 as it wends its way from Apache Junction to east of Tortilla Flat. The video above shows the before and during, and the photo at right shows the after.
The goal of this blasting: limiting the possibility of rock falling onto the highway.
The rock removal is just part of a project improving 17 miles of the highway. Since November, crews have been resurfacing the road, paving pullouts, installing new signage, replacing guardrails and adjusting some of the road's curves. The one-lane bridge across Tortilla Creek is also being replaced.