Crews begin bridge removal on US 89 Cameron project
Crews begin bridge removal on US 89 Cameron project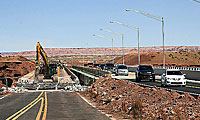 The Cameron Truss Bridge, a 57-year-old structure that spans the Little Colorado River, is coming down soon…
The bridge removal is part of the US 89 Cameron roadway improvement project that we've been telling you about since last summer.
Construction started in March 2014 to widen US 89 from two lanes to four lanes through the community of Cameron within the Navajo Nation, approximately 50 miles north of Flagstaff.
Once complete, the work will result in a new four-lane divided highway (two lanes in each direction) through the community.
Removing the existing Cameron Truss Bridge and replacing it with two new bridges at that location is a major part of the project. Improvements also include constructing a roundabout at the existing intersection of US 89 and SR 64, new sidewalks, streetlights and four pedestrian/livestock underpasses through the 3.5-mile project.
Right now, crews are beginning the bridge removal, as you can see in the photos above.
They've already constructed the new northbound bridge, which is what both north- and southbound traffic is using now (the northbound bridge also has a pedestrian walkway). Once the old bridge is completely removed, crews will start working on building the new southbound bridge.
Project Supervisor Rick Schilke explains that removal of the old bridge will take about a month…
"We're taking down a steel arch bridge … you don't see a whole lot of those anymore," said Schilke, adding that crews are beginning to remove the bridge deck. From there, they'll cut the steel bridge into six pieces, each of which will be disassembled and hauled off site.
Motorists are reminded to drive with caution through the work zone and are advised to be alert for construction equipment and personnel when driving through this project site.
Find additional details on the project page.