Crews repair, repave sinkhole on SR 89A
Crews repair, repave sinkhole on SR 89A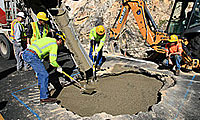 Talk about a quick turnaround…
State Route 89A in the Oak Creek Canyon switchbacks (mileposts 387-390) was fully reopened this afternoon after crews repaired a sinkhole that had been discovered in the northbound lane just this past Saturday.
Geotechnical engineers completed an inspection yesterday and determined that repairs could start immediately.
"They know what goes on beneath the ground more than anyone else so we knew they would have some expertise in this situation and provide a solution to the problem we had," says Assistant District Engineer Chad Auker in the video above.
A speedy fix
Crews used heavy equipment to excavate a six-foot deep, eight-foot-wide section of the roadway to remove about 15 cubic yards of loose material underneath the pavement near milepost 388. Next, they filled the void with a liquid concrete-cement mix that had to harden overnight before the road repaving could begin.
Today, crews repaved the northbound lane and opened the road to motorists.
Visit our Flickr page for photos of the repair project.