Crews worked to complete SR 89A repairs ahead of schedule
Crews worked to complete SR 89A repairs ahead of schedule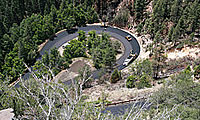 Remember when we told you that the SR 89A improvement project would require five-week full closure through the switchbacks between Sedona and Flagstaff?
Well, crews wrapped things up ahead of schedule and (good news) the road closure was lifted early!
The "switchbacks" section of SR 89A opened to motorists the night of June 16. The three-mile section had been closed to allow crews to resurface the highway along this narrow, twisty section of roadway, which is prone to rockfalls. As part of the $2 million improvement project, ADOT removed loose rocks from the mountainside along the roadway and made deck repairs to the historic Pumphouse Wash Bridge.
You can see in the video above why a full closure was necessary…
In addition to removing and replacing the existing asphalt, crews also made repairs to the surface of the historic Pumphouse Wash Bridge and performed rock fall mitigation work in this area.
The rock scaling portion of the project required crews to manually pry big rocks off the side of the mountain.
Slide Fire
Besides pavement repair, rock scaling and everything else involved in the project, crews also had to contend with a major wildfire that burned near the project site.
The five-week full closure of the highway had originally been scheduled from May 27 – July 2, but crews were evacuated from the project on May 20, at the start of the Slide Fire. The wildfire originated approximately six miles south of the project near Slide Rock State Park and forced the closure of the highway from Sedona to Fort Tuthill in Flagstaff.
Work on the project resumed on June 1, shortly after local authorities lifted wildfire-related restrictions near the highway.
"The wonderful thing about this project was, even in spite of the delay caused by the Slide Fire and the additional repairs that were needed, crews were able to coordinate their efforts and maintain a very tight schedule and finish the project ahead of the July 2 deadline," says Senior Community Relations Officer Coralie Cole in the video above. "We think you're going to be very happy with the results."
What's next for SR 89A
ADOT will need to return next month for three weekdays to complete final lane striping through the project corridor. A single-lane restriction will be required and flaggers will be present to guide traffic through the work zone. For more information on the SR 89A improvements, please visit the project Web page.