From the Director: Buckle up, buttercup
From the Director: Buckle up, buttercup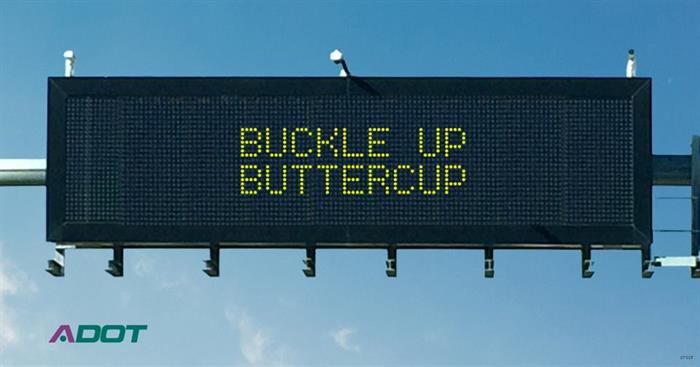 By John Halikowski / ADOT Director
"Buckle Up, Buttercup" is the year's winner in the Arizona Department of Transportation's Safety Message Contest. The runner-up messages were "Road Rage Gives You Wrinkles" and "Camping in the Left Lane Attracts Bears." All three safety messages appeared on overhead signs statewide this past weekend.
I want to thank the people of Arizona who voted in our contest. From a field of more than 2,000 entries, we narrowed the list to 15 safety messages and encouraged the public to vote for their favorites. We received more than 2,500 votes in this year's contest.
It was very heartening to see so many people engaging with safe-driving messages during the contest. The purpose of placing these safety messages on overhead signs is to start conversations that will improve driver behavior and make the roads safer for all of us.
According to the National Highway Traffic Safety Administration, more than 90 percent of vehicle collisions are caused by driver decisions, including choosing to speed, drive recklessly, distracted or impaired. Our safety messages on overhead signs are just one way ADOT and our traffic safety stakeholders are trying to change driver behavior.
"Buckle Up, Buttercup" should now be a familiar refrain for all drivers and passengers to hear and see.
---

This post originally appeared on ADOT Director John Halikowski's LinkedIn page. He has led the agency since 2009.