From the Director: Driving safety tips for Arizona's monsoon season
From the Director: Driving safety tips for Arizona's monsoon season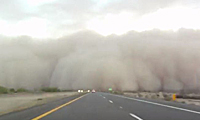 By John Halikowski / ADOT Director
With Arizona's monsoon season upon us, the Arizona Department of Transportation wants to remind residents and visitors of the do's and don'ts while traveling on our interstates and highways, especially when dust storms warnings are announced.
Dust storms can be dangerous and even deadly to drive through. Our mantra has and always will be "Pull Aside, Stay Alive." If you are traveling on our roadways and an overhead message board signals blowing dust in the area, be vigilant and be ready to pull over onto the side of the road or drive to the nearest exit ramp to go to a safe location to wait out the storm. Don't drive through a dust storm!
Turn your headlights off including emergency flashers and dome lights, set the parking brake and then keep your foot off the brake. Why? We get asked that question a lot. If you become caught in a dust storm and have pulled off the highway, you're in a dangerous spot – less dangerous than driving blind on the road – and want to hide. You can do that by turning off all vehicle lights. If you leave your lights on, drivers behind you might believe you've found the way out and follow, crashing into your parked car because low-visibility affects depth perception.
Wear your seat belt at all times. Make sure your passengers are also buckled up to keep them safe. Stay in your vehicle. With low visibility, you can easily get injured if you step away from your vehicle.
ADOT has produced 30-second public service announcements on dust storm awareness. The PSAs are airing statewide on television and radio throughout monsoon season as part of our partnership with the Arizona Broadcasters Association, and can be viewed at pullasidestayalive.org.
Flash flooding is also a concern during monsoon season. Downpours can cause instant flooding and wash out roadways especially in low lying areas. Obey road signs and don't drive through a desert wash that is flooded.
ADOT has more information on dust storm safety at PullAsideStayAlive.org and driving in rainstorms, azdot.gov/monsoon.

Following these simple driving safety tips can mean the difference in staying safe during our monsoon season.

Remember, our fatalities are going up. Speed and intoxicated driving is the problem. Take control of yourself before you take control of the wheel.
 
---

This post originally appeared on ADOT Director John Halikowski's
LinkedIn page. He has led the agency since 2009.