From the Director: Help us protect ADOT workers, you and your passengers
From the Director: Help us protect ADOT workers, you and your passengers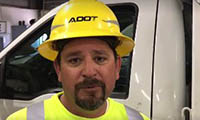 By John Halikowski / ADOT Director
I want our employees whose office is the road to be able to go home to their families every day. During National Work Zone Awareness Week, it makes perfect sense to remind motorists to be alert when driving in work zones.
Safety is the No. 1 priority at ADOT. When it comes to work zones, vehicles speed by just inches away. We rely on motorists to pay attention and slow down when entering work zones, not only for the safety of our crews but for drivers and passengers.
According to the Federal Highway Administration, drivers and passengers accounted for 82 percent of work zone fatalities nationally in 2014, the most recent year with complete data. According to preliminary data for 2016, Arizona had seven fatal crashes in work zones, resulting in seven deaths, and 27 serious-injury crashes.
That's why is doesn't hurt to remind everyone, give our work crews a "brake" – drive safe in work zones.
---
This post originally appeared on ADOT Director John Halikowski's
LinkedIn page. He has led the agency since 2009.