From the Director: Helping truck drivers find public parking at rest areas
From the Director: Helping truck drivers find public parking at rest areas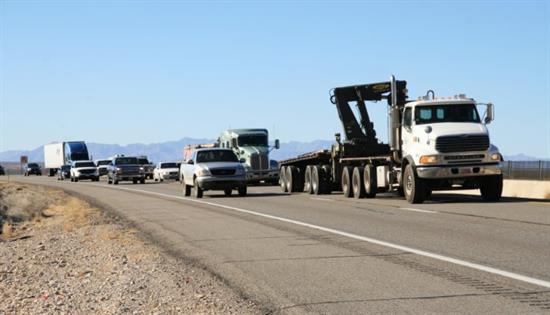 By John Halikowski / ADOT Director
As commercial truck drivers travel on Interstate 10, they can find themselves unable to find public parking at rest areas. You may have seen commercial trucks parked along entrance ramps and freeway shoulders when rest areas are full. To me, it's a safety issue. To provide a safer and more efficient system for these drivers, the Arizona Department of Transportation is joining departments of transportation from Texas, New Mexico and California in seeking a federal grant to develop a program alerting commercial truck drivers to available public parking at I-10 rest areas.
In 2016, these four departments of transportation formed the I-10 Corridor Coalition with the purpose of creating a safer and more efficient travel, both commercial and personal, on this important interstate. I-10 is the primary trucking route connecting markets of Southern California and Texas with international shipping.
When we launched the I-10 Corridor Coalition, this kind of collaboration is what we DOT directors had in mind. By working together, our states can create a safer environment on I-10 that will be more efficient for drivers and boost economies in the region.
The I-10 Corridor Coalition is seeking a $13.7 million Advanced Transportation and Congestion Management Technologies Deployment Grant through the Federal Highway Administration. Through the grant, we are proposing a system that would inform drivers about available parking at rest areas through signs along I-10. Commercial drivers could better plan their schedules. We could improve safety by reducing the number of drivers who park along ramps and freeway shoulders, not to mention reducing time it takes drivers to find available parking spaces – cutting down on emissions and fuel consumption.
For Arizona, we would have ADOT rest areas in each direction at Bouse Wash (milepost 53) and Burnt Well (milepost 86) on the western edge, and at Texas Canyon (milepost 320) and San Simon (milepost 388) on the southeastern side of the state as part of the system.
This grant is a win-win for commercial truck drivers and a way to boost the region's economy in moving goods more efficiently. When you combine the economies of Arizona, California, New Mexico and Texas, this region represents the 10th-largest economy in the world.
You can learn more about the I-10 Corridor Coalition at i10Connects.com.
---

This post originally appeared on ADOT Director John Halikowski's
LinkedIn page. He has led the agency since 2009.