From the Director: How ADOT strives to do better
From the Director: How ADOT strives to do better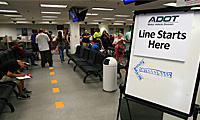 By John Halikowski / ADOT Director
Continuous Improvement. It represents a culture change at the Arizona Department of Transportation. It means focusing on what we do on a daily basis and seeing how we can do better for the customers we serve. Continuous Improvement means eliminating obsolete tasks through technology, streamlining processes and working together to try new ideas. We are engaging Continuous Improvement across ADOT, but the most visible changes for customers are taking place in the Motor Vehicle Division.
I know a visit to an MVD office can be arduous, to say the least, when it comes to wait times. I have challenged our team to reduce the wait times and they have risen to the challenge. Our Phoenix MVD office at 51st Avenue and Indian School is serving as a laboratory of experimenting with new ideas to streamline processes and reduce wait times. Recently, this office experimented with turning off the automated system that calls out numbers to let customers know when it is their time to approach a customer service representative. After checking in, customers line up along a path marked by yellow tape. While a MVD employee walks down the line to make sure customers have what they need to complete their transactions, another MVD employee directs people to the next available window. Initial results are promising. Customers completed their business in about 30 minutes rather than the average time of more than an hour. MVD's goal is to reduce the office visit to 28 minutes at all our offices statewide (that's the door-to-door time goal).
This effort at MVD represents just one example of ADOT employees examining our current processes and identifying ways to do better for the customers we serve, the taxpayer. It certainly is an exciting time at ADOT!
---

This post originally appeared on ADOT Director John Halikowski's
LinkedIn page. He has led the agency since 2009.