From the Director: Making wise choices
From the Director: Making wise choices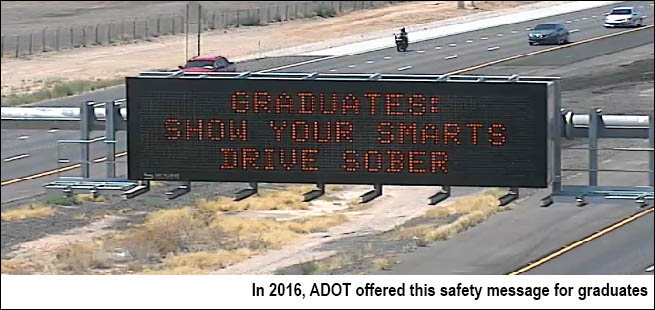 By John Halikowski / ADOT Director
Congratulations to the 2017 graduates, both in high school and college! It is an exciting time. For high school graduates, it is a time for them to spread their wings, whether it is attending an in- or out-of-state four-year college, a community college, vocational program or military service. For college graduates and a degree in hand, it is the time to use that knowledge to work in a chosen field. Whatever these graduates do, it comes down to making wise choices.
As a parent, we try to instill in our children the importance of making wise choices; if not, there always are consequences when a wrong choice is made. That is ever-so-true when it comes to driving. So many things can go wrong if a young driver doesn't wear a seat belt, is distracted while driving, is impaired due to alcohol or drugs, or speeding. As the father of two sons, I understand the role we, parents, play in making sure our children are safe drivers and that they make wise choices behind the wheel.
Here is a sobering statistic. Young drivers, age 16-24, were involved in 19 fatal crashes (alcohol-related or otherwise) in May 2016, resulting in 20 fatalities. That means 20 people are not here today, living their dreams, because someone made a wrong choice.
I would say to the graduates celebrate your accomplishment but be wise. Don't drink and drive. Use a designated driver or other modes like transit, light rail, taxi or Lyft/Uber. Wear a seat belt. Obey speed limits. Show your parents you listened to them; make wise choices.
---

This post originally appeared on ADOT Director John Halikowski's
LinkedIn page. He has led the agency since 2009.