From the Director: Times Are A-Changing at MVD
From the Director: Times Are A-Changing at MVD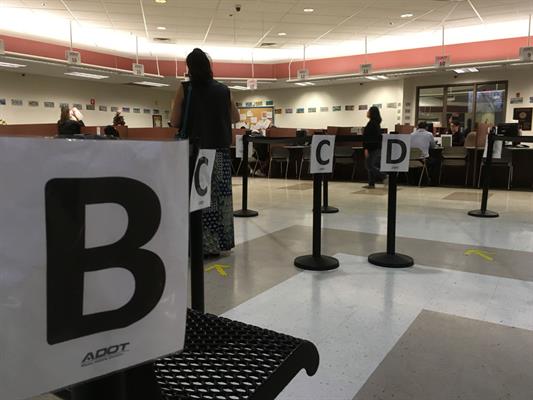 By John Halikowski / ADOT Director
Times -- they are changing at the Arizona Department of Transportation Motor Vehicle Division. Literally! The wait times at our Phoenix and Tucson MVD offices have been cut in half compared to last year. We have expanded the office hours at our MVD urban offices in Phoenix and Tucson, opening the doors at 7:30 a.m. to help meet customer needs. These efforts are resulting in great success.
I commend our employees at MVD who have embraced the Arizona Management System philosophy of finding change for the better. Instead of customers having to sit and wait to be served, a very arduous process a year ago, today we have employees providing assistance and answering questions upon arrival that reduce the amount of time a customer spends at an MVD office. Since February, customers at the 15 MVD offices in metro Phoenix and Tucson are now averaging fewer than 30 minutes from the moment they enter an office to the time they leave. Our rural MVD offices are also experiencing a reduction in wait times.
We have also introduced kiosks in MVD offices and offer more services online, reducing the amount of time customers need to spend at an MVD office. It follows our vision to get people out of line and safely on the road.
There are now 168 third party providers in locations statewide. Most third party providers offer similar services at an MVD office like drivers and motorcycle licenses, travel identification cards, and title and registrations. For a list of third party providers, visit the ADOT website, azdot.gov/mvd.
By opening our urban MVD offices a half an hour early, the results are showing better customer service. Our employees can have flexible schedules to meet the high demand times, the early morning and lunch time hours. We are saving on overtime costs as employees have time to complete their tasks during the day.
I am happy that our customer service representatives will have time now to continue their training. Beginning July 12, the urban MVD offices will open at noon to allow time for employee continuing education programs. This time change will occur on the second Wednesday of each month.
Times – they are changing at MVD – for better customer service and less wait time. Stay tuned, more innovations are on the way.
---

This post originally appeared on ADOT Director John Halikowski's 
LinkedIn page. He has led the agency since 2009.