Don't cast a shadow on safety
Don't cast a shadow on safety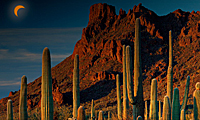 By Doug Pacey / ADOT Communications
Millions of Americans will be treated to a rare celestial event next week. A total solar eclipse will occur over North America with the path of totality traveling from Oregon to South Carolina on Aug. 21.
Here in Arizona, however, we'll see a partial eclipse. While we won't get the full show, we want to remind drivers not to stop their vehicles in roadways or on shoulders to view the eclipse. Stake out a safe place far away from the road – and don't forget your eclipse glasses.
The eclipse will begin around 9:10 a.m. and end around noon in Arizona. Peak viewing will occur around 10:30 a.m. Keep in mind that the exact times will vary, depending on your location.
For more details, visit NASA's webpage devoted to the eclipse.