Don't forget your paperwork when applying for a Voluntary Travel ID
Don't forget your paperwork when applying for a Voluntary Travel ID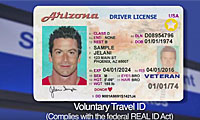 By Caroline Carpenter / ADOT Communications
If you're visiting an MVD office to get a new Arizona driver license or ID card, renew your credential or get a 12-year photo update, you might want to consider a Voluntary Travel ID.
It's a credential that complies with the federal REAL ID Act for getting through security checkpoints at airports and accessing restricted federal buildings and military bases. You may either get a driver license or an identification card.
Before you head to the MVD, we want to make sure you bring along the documentation needed to get a Voluntary Travel ID, as the requirements are different. The video above has the details, or you can visit azdot.gov/TravelID for more information.