Don't overlook the much-improved I-17/Pinnacle Peak Road interchange
Don't overlook the much-improved I-17/Pinnacle Peak Road interchange
By Doug Nintzel / ADOT Communications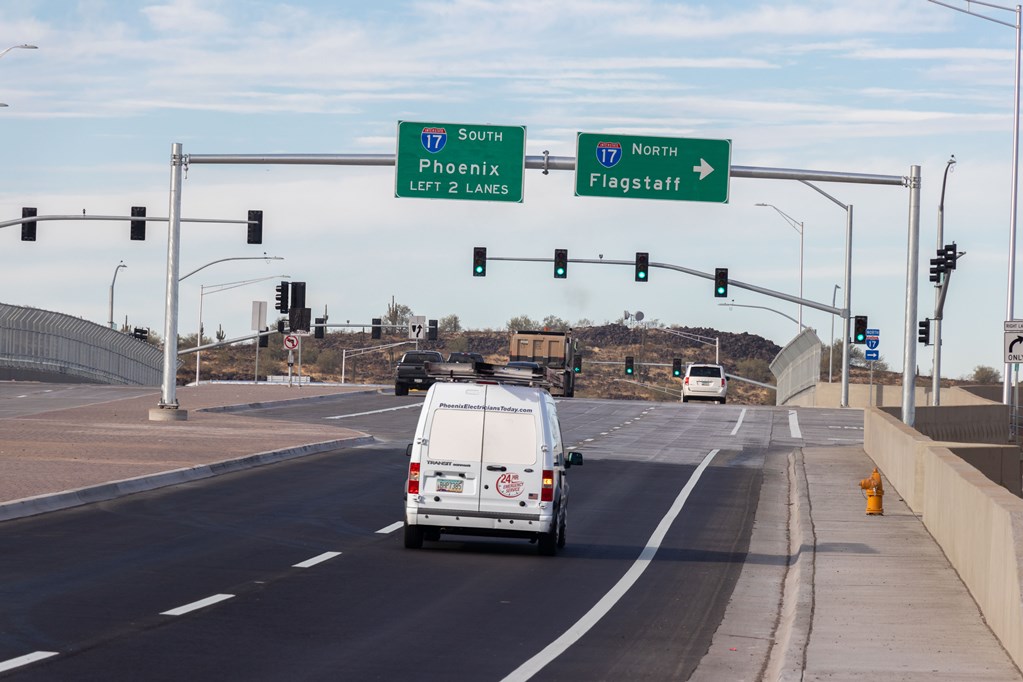 As part of ADOT's recent major project along Interstate 17 in north Phoenix, the reconstruction of the bridge and traffic interchange at Pinnacle Peak Road often took a backseat to the rebuilding also taking place at the busier, nearby interchange at Happy Valley Road.
After all, the I-17/Happy Valley Road interchange received more attention because it was reconstructed as a diverging diamond with new – and different for Arizona – lane configurations and traffic signal setups. 
But enough about Happy Valley Road. We're here to sing the praises of the new and improved Pinnacle Peak interchange. What a difference a couple of years and hard work can make.
As you can see in the video to the right, the Pinnacle Peak Road interchange now features a much wider bridge crossing over I-17. The old, more narrow bridge was demolished as part of the $50 million project that delivered the upgraded interchanges at Pinnacle Peak and....that other interchange a mile to the north.
Before this project, traffic on Pinnacle Peak Road often backed up approaching I-17, especially in the westbound direction during rush hour. Drivers had to wait in fewer lanes for traffic signals to change.
Now, there are left turn bays with two lanes for traffic entering I-17. That means more "storage capacity" for traffic making those left turns. The I-17 on- and off-ramps at the Pinnacle Peak interchange also were reconstructed with more lanes that provide drivers with improved options at the interchange. The traffic signals are all new and the interchange is much more aesthetically pleasing with individual red paver blocks used to fill the raised median islands.
The modernized, larger Pinnacle Peak Road interchange along I-17 is now in place to efficiently handle today's traffic as well as traffic in the area for decades to come. We just want to let the new bridge and other improvements at Pinnacle Peak get a little time in the spotlight.
The reconstruction project was funded in part by Proposition 400, a dedicated sales tax approved by Maricopa County voters in 2004.