Driving Safety Home: Share the road, stay safe
Driving Safety Home: Share the road, stay safe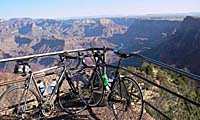 By Dallas Hammit / ADOT Deputy Director for Transportation
It may be hard to believe, but the summer is starting to wind down. We're entering into the time of year when students head back to school, the days get shorter and we all start to see more events going on the calendar as temperatures begin to cool.
It's also when we begin to see more pedestrians and cyclists take to the streets, making now the perfect time to review and improve our habits when it comes to sharing the road.
Yes, I know I share this same message every year around this time, but it is something that's worth repeating — especially since pedestrian involved crashes and fatalities spiked last year. The number of pedestrians killed rose to 197 in 2016 from 163 the year before and crashes increased by 16 percent, from 1,408 in 2015 to 1,637 last year.
Those numbers should tell all of us — motorists, pedestrians and bicyclists — that we need to pay attention, slow down and avoid distractions when traveling.
As someone who enjoys bicycling (I even bike to work at least once a week), I've seen firsthand some of the close calls that occur when everyone's not paying attention to the road. Intersections pose a notable challenge because drivers aren't always looking out for bicyclists or pedestrians.
Luckily, there are some great resources that focus on how to safely handle intersections, blind spots, crosswalks and everything in between. You can find those guides on ADOT's Bicycle and Pedestrian Program website at azbikeped.org. Look for "Sharing the Road with Pedestrians" and "Arizona Bicycling Street Smarts." Both publications offer information on Arizona traffic laws and important safety tips.
And, as always, please share these resources with your friends and loved ones and take the opportunity to talk with them about making safe choices.
---

Editor's Note: More safety messages from Dallas Hammit, ADOT's state engineer, are available at Driving Safety Home on azdot.gov.