Driving Safety Home: Stay safe this summer by planning for extreme weather
Driving Safety Home: Stay safe this summer by planning for extreme weather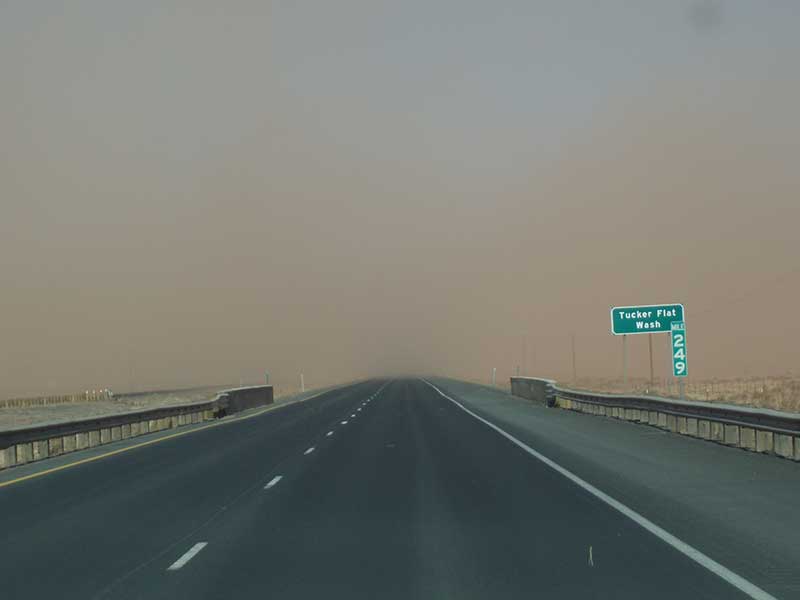 By Dallas Hammit / ADOT Deputy Director for Transportation
Summer is officially here and it's no surprise that Arizona is in for some extreme weather over the next few months — soaring temperatures, monsoon rain and dust storms are always in the season's forecast. While no one can control the weather that's headed our way, we all can plan ahead and take simple precautions to stay safe.
High temperatures
Even if your vehicle has air conditioning, you should always be ready for a potential breakdown or crash that could force you to spend an extended amount of time stopped on the road.
Besides prepping your vehicle — fueling up, testing the battery, checking tire pressure and topping off vital engine fluids — drivers should make sure they bring along an emergency kit. It can include things like extra water, healthy snacks, a fully charged cell phone (and cell phone charger), an umbrella for shade, hats, sunglasses and sunscreen. You'll also want to have a good first-aid kit and any necessary prescribed medication. Of course, safety gear (reflective vests, flashlights, a travel tool kit and battery cables) is also vital.
You can find additional tips at azdot.gov/extreme-heat.
Monsoons
Monsoon storms can produce sudden, heavy rain. Drivers should always be prepared and, if necessary, be ready to wait out heavy rain, high winds and blowing dust.
If you find yourself driving during inclement weather, be sure to turn on your headlights and, when roads are wet, reduce speed and maintain a safe distance between your vehicle and the one ahead.
Avoid areas where water is pooling in travel lanes. If your vehicle appears to be hydroplaning, ease your foot off the gas pedal until you regain traction rather than braking suddenly, which can cause a vehicle to skid off the roadway. Don't risk crossing a flooded wash, even if it doesn't look deep. Just a few inches of running water can carry away a vehicle, even a heavy pickup truck or SUV.
There's even more safety advice at azdot.gov/monsoon.
Dust storms
The No. 1 thing to remember about dust storms is to NOT drive into one — avoid these walls of dense, blowing dust by safely pulling off the road. Just as dangerous are the smaller dust channels that can whip across roadways in an instant, giving drivers little or no opportunity to avoid them.
If you encounter a dust storm or a dust channel, immediately check traffic around your vehicle (front, back and to the side) and begin slowing down. Do not wait until poor visibility makes it difficult to safely pull off the roadway — do it as soon as possible. Once you're safely off the road, turn off all vehicle lights, including your emergency flashers — you don't want other vehicles approaching from behind to use your lights as a guide, possibly crashing into your parked vehicle. Set your emergency brake, take your foot off the brake and stay in your vehicle with your seat belt buckled until the storm passes.
Find additional safety tips and videos on PullAsideStayAlive.org.
Knowing what to do and having a plan could make a big difference if you're confronted with extreme weather. I encourage you to visit the online safety resources listed above and share the information with your loved ones.
---
Editor's Note: More safety messages from Dallas Hammit, ADOT's state engineer, are available at Driving Safety Home on azdot.gov.