Elk fence reduced crashes, great example of collaboration
Elk fence reduced crashes, great example of collaboration
By Kathy Cline / ADOT Communications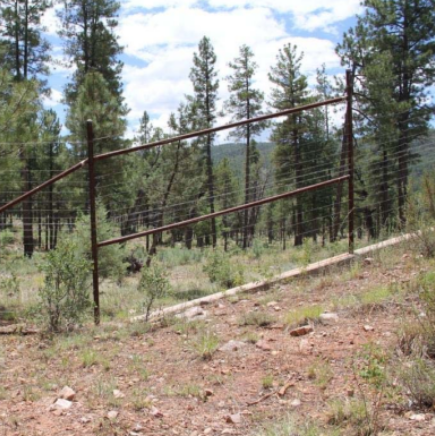 ADOT works with many state agencies for many reasons. One collaboration with the Arizona Game & Fish Department significantly reduced elk-vehicle crashes on northbound I-17 south of Flagstaff.
In 2011, AZGFD noted a stretch of I-17 near Munds Park was seeing a high number of elk-vehicle crashes.  Because a full-grown bull elk can weigh upwards of 700 pounds, crashing into something that large can destroy a vehicle and cause serious injury or death to vehicle occupants, as well as the animal. 
In 2012, after some study, AZGFD and ADOT installed ungulate – "ungulate" means "hoofed mammal" – fencing in four locations near Munds Park on I-17:
Munds Canyon Bridge (milepost 322)
Schnebly Hill traffic interchange (milepost 320.5)
Fox Ranch traffic interchange (milepost 317.9)
Woods Canyon Bridge (milepost 317)
In most instances, the existing right-of-way fences were modified with bolts and barbed wire, eliminating the need for completely new fencing and poles. Positive results were seen immediately.
From 2007 to 2010, 20 elk-vehicle crashes were documented within this area. From 2012 to 2014, there was only one.
This success is one example of Arizona showing leadership in wildlife connectivity issues through partnerships among multiple agencies. ADOT and AZGFD have also collaborated to construct wildlife underpasses and elk crossings along State Route 260 east of Payson and desert bighorn sheep overpasses near historic Hoover Dam on US 93