Engineer in Training program offers new graduates the chance for some real world experience at ADOT
Engineer in Training program offers new graduates the chance for some real world experience at ADOT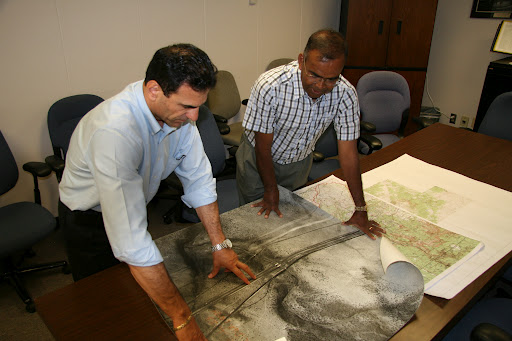 Becoming a licensed, professional engineer takes more than just a college diploma…
After graduation there are some tough exams involved, along with a requirement to obtain four years of engineering experience under a licensed Professional Engineer (PE).
Recent graduates can gain some of that experience through ADOT's Engineer in Training program.
Here's how it works
The 24-month program kicks off once a new crop of EITs are hired – usually in the spring.
And, yes, they are hired by ADOT. EITs are full-time employees brought on to contribute to the team and fill real positions at ADOT. The number of EITs hired each year depends on how many openings ADOT has available.
EITs follow a structured program working in varied sections within ADOT's Intermodal Transportation Division. Their time is divided into training blocks that last two and four months. A few of the blocks are mandatory and others are selected by the EIT.
Some of the blocks include: metro construction, rural construction, roadway design, materials testing, pavement management/design, bridge design, traffic operations and project management.
After 18 months of rotation, EITs choose an area of specialization to spend the remaining six months of training. Upon satisfactory completion of the program, EITs are typically given a permanent assignment with ADOT.
Dorinda Winrow, ADOT's EIT program manager, says the program has been around in some form at ADOT since the 1950s and interest has continued to grow. There were roughly 200 who applied last year for 15 open spots.
It's the "real world" experience and the chance to meet and network with others in the engineering field that draws people to the EIT program, she says.
"Basically they get to function as a working team member," Winrow said. "That is the intent of the program."
EIT Jessica Hanson says the program is providing her with the training and background needed to have a successful career as a civil engineer with ADOT.
"The EIT program is a valuable learning experience," she said. "(It) has allowed me the opportunity to participate in various phases of projects including design, construction and maintenance."
Hanson has completed rotations in pavement design, contracts and specifications, roadway design, regional traffic, regional materials and construction.
"Throughout my rotations, I have increased my technical skills and broadened my knowledge of the state's transportation system," Hanson said.
EIT Jeremy Sala agrees.
"I couldn't ask for a better way to start a career than to go through two years of training blocks in different engineering disciplines," said Sala, adding the rotation through several different departments helped him identify a career path.
More information on the program, including instructions on how to apply, is available on the EIT webpage.