Environmental impacts carefully studied by ADOT
Environmental impacts carefully studied by ADOT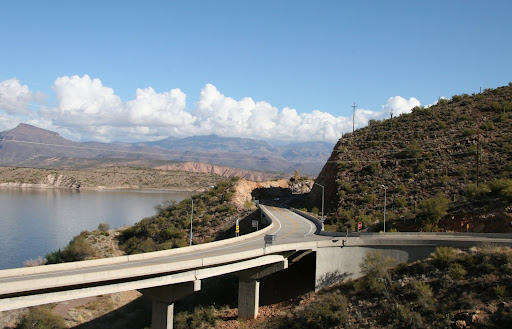 ADOT can't just construct a freeway wherever and however it wants…
Building a road actually requires a lot of careful planning, thought and exploration long before the first construction crews ever arrive on site. 
A potential project gets examined from every angle, but it's the road's environmental impact that gets one of the closest looks – and for good reason.
Think about it … if no thought was given to a project's environmental effect, neighbors living nearby the new road would certainly see, hear and maybe even smell the consequences -- not to mention any potential long-term impacts to the environment.
So, it's a good thing ADOT thoroughly takes into account a project's possible impact. In fact, ADOT has an entire team devoted to just that.
Experts working within the Environmental Planning Group provide assistance at each stage of a transportation project and they ensure every project complies with applicable environmental laws and regulations.
The primary federal environmental law they are guided by is called the National Environmental Policy Act or NEPA for short. NEPA acts as an umbrella for other federal, state and local environmental laws and regulations. Just some of the environmental aspects ADOT considers under NEPA are:
Water quality
Air quality
Noise impacts
Historic and cultural resources
Hazardous Materials
Environmental Justice
Threatened and Endangered species
Public involvement
In addition to NEPA, there are dozens of other environmental laws on the federal, state and local level that oversee everything from conserving native Arizona plants to farmland protection … EPG takes all these into account, too!
To determine what a project's impact might be, EPG's planning and technical sections will do things like conduct surveys to seek out threatened and endangered species in the area; analyze the social and economic impacts of a project; hold public meetings and hearings; consult with the state historic preservation office; and take readings and make predictions on air and noise impacts.
Through planning, EPG can help projects avoid or minimize negative project impacts. Some of the steps taken in the past have included:
Building noise walls and berms.
Salvaging native plants and re-planting them once construction is over.
Designing erosion control features.
Building wildlife crossings.
Including aesthetic treatments like landscaping, the creation of natural looking rock cuts and the addition of murals and sculptures.
The end result, hopefully, is a project that fits in with surrounding area and preserves the state's unique natural and social environments.
There's a lot to this subject and we've only touched the surface. In the coming weeks we'll examine in more detail some of the environmental impacts ADOT considers before designing and building new projects … so stay tuned!