Environmental Resources Roadshow empowers citizens to improve their community
Environmental Resources Roadshow empowers citizens to improve their community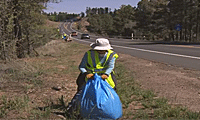 By Caroline Carpenter / ADOT Communications
We all know it's good for the environment to recycle, reduce, reuse. Just because you want to do what's right for the environment doesn't mean it's always easy, especially in rural areas.
That's why a partnership involving ADOT Adopt a Highway, the Arizona Department of Environmental Quality and Keep Arizona Beautiful is connecting citizens to resources that improve rural communities.
The Environmental Resources Roadshow empowers citizens to take responsibility for the environment through litter abatement, recycling and community beautification. Check the roadshow schedule to see if it will be rolling through your town this year.