Face off: AZ 511 app versus ADOT Alerts app
Face off: AZ 511 app versus ADOT Alerts app
By Caroline Carpenter / ADOT Communications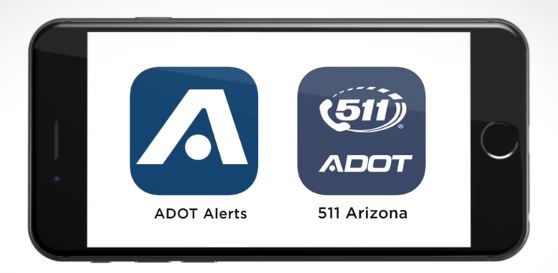 Over the past few years, ADOT has made a couple of travel apps available to drivers. If you've searched for "ADOT" in your app store and wondered the difference between the AZ 511 and ADOT Alerts app, we have the answer!
AZ 511 app
Both are apps most drivers will want to have on their phone. The AZ 511 app is one you'll open more regularly and should be checked before you leave home. The ADOT Alerts app is a "set it and forget it" type of app.
When you get in your car, the AZ 511 app will show you routing options based on travel time before you leave your driveway. You simply enter a destination and it displays travel times and route options for both everyday and one-time trips. In hands-free mode, you'll get verbal notifications of upcoming incidents or roadwork as you drive.  
ADOT Alerts app
The ADOT Alerts app is for unplanned, high-impact incidents along the state highway system. These might include closures due to crashes or long backups on an interstate because of a high volume of traffic. Notifications of incidents are based on your vehicle's location at the time of the incident. You can also set up a "watched location" for areas where you always want to receive notifications.
An earlier blog post will give you more in-depth look at the AZ 511 app and this blog post gives you some statistics about the ADOT Alerts app and how it was used during a winter storm. You can also visit this webpage to get links to both apps.