New year? Resolve to drive safer!
New year? Resolve to drive safer!
By Laurie Merrill / ADOT Communications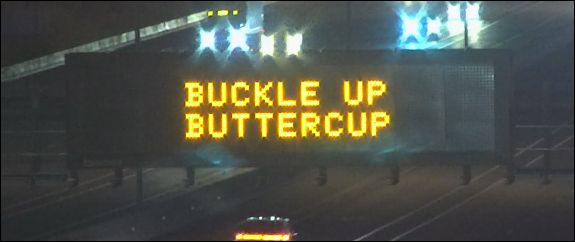 So here we are, in early 2022, and you may have already blown off your New Year's resolutions to lose weight, get more sleep and be more patient with your in-laws.
OK, you tried. A little. It's not like it's life or death or anything.
But ADOT wants to suggest a few resolutions that actually could save your life. With a little help from some of our past traffic safety messages, we urge you to adopt the following resolutions:  
Drive slower, live longer. Slow down. Did you know that speeding is the most common driver violation related to crashes and, historically, is a factor in about a third of all traffic fatalities each year? The faster you go, the less control you have over your vehicle and the less time you have to react to the other guy's driving error. If not for yourself, then slow down for your loved ones.
Buckle up, buttercup. Wear seatbelts. This simple habit, so easy to acquire with just a little practice, is a proven life safer, often meaning the difference between life and death in a crash. So make it a practice to get in your car, put on your seatbelt, adjust your sunglasses and then start your car.
Designated drivers make the best dates. Don't drive drunk. Impaired driving is a leading factor in crash fatalities. If you know you're going to drink alcohol, designate a driver or make alternative plans to get home safely.
Phone down, eyes up. Don't text and drive.  It's against the law to text while driving. It doesn't matter if you're making up with a loved one or getting a job offer. None of it matters if you're not around. 
Move Over when you see flashing lights. If you can do so safely, shift over one lane when you see responders assisting a vehicle on the shoulder of a highway. It's not only the law, but this gives them a safe place to work.  
Don't dally after a minor crash. It's the law. If you are in a fender bender with no injuries, the most crucial thing to remember is simple: Get out of the travel lanes. Once your car is safely out of harm's way you can wait for a tow truck or law enforcement to arrive.
Download the free ADOT Alerts and AZ511 apps. To get alerts about unexpected events on your route, and to check traffic conditions before you head out, you'll want to download these apps here. They will save you time and headaches.