Familiar look of SR 143 will stay in place
Familiar look of SR 143 will stay in place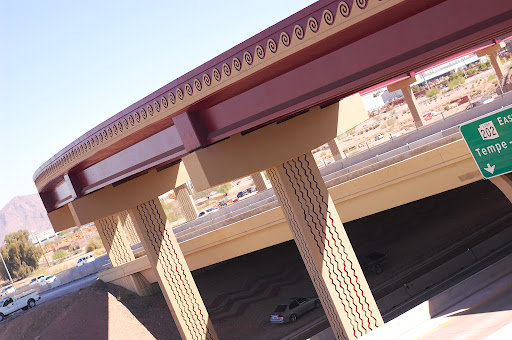 The SR 143 has undergone some reconstruction and work still continues, but that doesn't mean the indigenous images and symbols that have long been a part of its landscape will go away.
Motorists driving to and from Phoenix's Sky Harbor International Airport have become accustomed to the landform graphics, dancers, birds and pottery designs all inspired by the Hopi and Hohokam cultures.
ADOT's Project Landscape Architectural Designer Joseph Salazar says he and his team are preserving some of that original design and adding to it.
Take for example, the Hohokam dancers. Before construction started there were four of these statues situated in the area (they're made of molded polystyrene that gets finished smooth and painted, by the way). Those four are being refurbished and five additional statues will be joining them.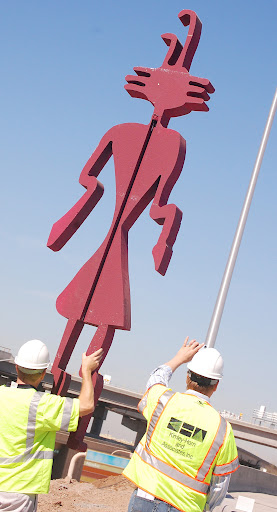 We had the chance earlier this month to join the project team as they scoped potential sites for the new and refurbished dancers (see photos).
The team used foam mockups to help determine placement. The real ones will go in between now and June.
Salazar says he was looking at the statues from a driver's perspective to get an idea of where they should go.
It's not all about aesthetics, though …
The striking landform graphics – made of decomposed granite – require no irrigation and very little upkeep. They also serve the functional purpose of stabilizing slopes and preventing soil erosion.
The location of the project also plays an important role in determining the look of the landscape. Because it's so near the airport, trees and plant life that attract birds would not be a good idea – they could interfere with planes, according to Salazar.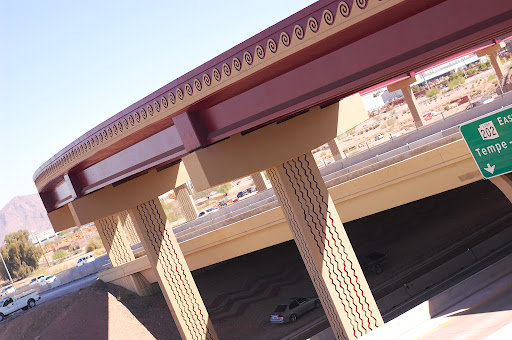 The cultural significance of the area is something Salazar says inspired the plans, too. He worked with staff from the nearby Pueblo Grande Museum to examine Native American pottery and artifacts that he and his team were able to translate into the design.
"They took us into their archives," he said. "It was a real, rare opportunity."
Salazar says much from the culture was incorporated – down to the water wave motifs and the bold Hohokam geometric patterns that are cast into the new ramps.
"When people are first coming to Arizona and landing at the airport, these are the first features they'll encounter," Salazar said.