Fed up with distracted drivers? It's up to us to make roads safer
Fed up with distracted drivers? It's up to us to make roads safer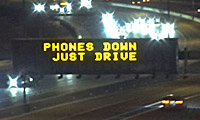 By John Halikowski / ADOT Director
All of us see these dangerous occurrences on the roads we drive – even some of our closest family members and friends are guilty of it – and it needs to stop. Driving distracted is selfish but its consequences go far beyond the distracted driver, resulting in thousands of crashes and dozens of entirely preventable fatalities every year in Arizona.We all know it's not a good idea to text and drive. Or fiddle with a navigation system for too long or doing anything else from the driver's seat that takes away our attention from driving.
Gov. Doug Ducey has proclaimed Jan. 22-28 Distracted Driving Awareness Week, making this a good time to remind people that safer roads are, literally, in their hands. Here are some things we can all do to keep drivers' eyes on the road and not their phones:
If you know someone is driving, don't text them.
If your smartphone has the capability, engage the "do not disturb while driving" feature.
Parents, set an example for kids and don't reach for the phone when driving.
In addition to smartphones, keep your hand free of food, drinks, makeup, electric shavers, toothbrushes (we've all seen that one guy, right?) and anything else that pulls your attention from driving.
Did you know that taking five seconds to send or read a text, while driving 55 mph, is like traveling the length of a football field with your eyes closed? A lot can happen in that span. Please, that text can wait.
---

This post originally appeared on ADOT Director John Halikowski's
LinkedIn page. He has led the agency since 2009.