Find out what to expect on the road this Labor Day weekend
Find out what to expect on the road this Labor Day weekend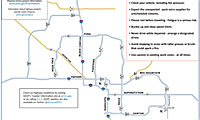 We are sure many of you are looking forward to the upcoming three-day weekend (!!!) and we're betting that your plans might include some travel.
Labor Day weekend marks the end of summer and often is a good time for families to hit the road and take a trip, but you know what that means – more cars on the highways!
You'll be happy to know that motorists will get a break from any construction closures this long weekend. That's right – no construction closures will be scheduled along state highways, including Phoenix-area freeways, over Labor Day weekend.
Meanwhile, ADOT is teaming up with the Arizona Department of Public Safety and other agencies on a campaign to limit and respond quickly to crashes or disabled vehicles along I-17 north of Phoenix. Visit our website to learn more about the "Stay Alert, Stay Alive" safety campaign.
Since our hope is that your drive goes as smoothly as possible, we wanted to share some information on a couple of ADOT projects that will help you map out your trip...
Heavy traffic expected on I-15 during Labor Day holiday
ADOT is urging motorists traveling on Interstate 15 in the far northwest corner of Arizona to allow for extra travel time due to expected heavy traffic during the upcoming Labor Day weekend and be aware of an existing work zone through the Virgin River Gorge.
Delays of up to two hours have been reported on previous holiday travel weekends through the Virgin River Gorge, which is nearly 100 miles northeast of Las Vegas.
ADOT is currently working on a major reconstruction project on Virgin River Bridge No. 6 (milepost 16), located about 20 miles south of St. George, Utah.
While no active construction will be taking place during the holiday weekend, the highway is currently narrowed to one lane in each direction through the work zone until the project is completed in 2016. With limited alternate routes due to the remote location of the I-15 Virgin River Gorge corridor, ADOT urges drivers to plan ahead, allow extra travel time, slow down and drive carefully through the work zone, and be alert for construction equipment and personnel.
Traffic delays expected on SR 89A due to the Coconino County Fair
If you're lucky enough to be headed to the annual Coconino County Fair this Labor Day weekend, ADOT urges you to allow some extra travel time as traffic delays are expected.
The main entrance to the Fort Tuthill County Park along State Route 89A remains closed due to an ongoing improvement project and traffic is routinely backed up onto I-17 and SR 89A during special events at the park.
The park's main entrance at Fairgrounds Road, which intersects with JW Powell Boulevard and SR 89A/Beulah Boulevard, has been closed since early June while ADOT continues construction of the realignment of SR 89A and two new roundabouts at this location.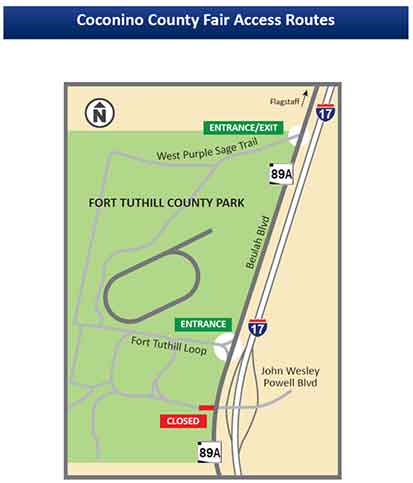 During the fair, attendees will enter and exit the fairground at two alternate locations north of Fairgrounds Road. The first location is Fort Tuthill Loop, approximately 300 yards north of the main entrance. The second location is at West Purple Sage Trail, which is slightly more than one-half mile north of the main entrance on SR 89A (see map at left).
ADOT is reconstructing the SR 89A/JW Powell Boulevard intersection and southbound I-17 ramp/JW Powell Boulevard intersection in an effort to improve traffic flow and enhance safety. You can read more about the project (and see a great video) by revisiting this blog post from June.
Find more travel information from ADOT
No matter where you're going this weekend (and even if you're staying home), we want you to know that you can stay-up-to-date with the latest highway conditions around the state by visiting ADOT's Traveler Information Center at az511.gov. You can also call 511 (outside of Arizona, dial 1-888-411-ROAD) for traffic details. And, as always, follow us on Twitter (@ArizonaDOT) for updates.
Have a safe holiday!