Five-year Construction Program gets approved
Five-year Construction Program gets approved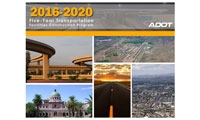 On Friday (June 19), the State Transportation Board met in Pinetop-Lakeside and voted to adopt the 2016-2020 Five-Year Transportation Facilities Construction Program…
That means projects designed to preserve, modernize and expand Arizona's highway system now have formal approval to move forward as part of ADOT's annual five-year planning process.
You might remember that we blogged about the start of the process back in March, when ADOT made a call to the public for comments on the plan. Since that time, ADOT has held three public hearings and has collected email, phone and online comments.
If you've been reading the blog for a while, you know that the plan acts as a blueprint, detailing where, when and how funding (that includes regional, state and federal money) will be spent for future ADOT projects. It gets updated annually and when finalized, it helps ADOT to prioritize which projects move forward first. Funding for the Five-Year Program is generated by the users of transportation services, primarily through gasoline and diesel fuel taxes, and the vehicle license tax.
New 2016-2020 plan
Much like the current Five-Year Program, the newly adopted 2016-2020 Five-Year Program reflects a major focus on preserving the existing state highway system while moving some high-priority expansion projects forward. ADOT must prioritize projects due to continued low revenue from the gas and vehicle license taxes and from decreased federal funding — all of which support the Five-Year Program. ADOT's continued focus on preservation allows the department to protect its investment of $19.7 billion in the state highway system. Without a commitment to preservation, it would cost approximately $200 billion to replace the system.
Both the Maricopa and Pima county regions in the two metropolitan areas have independent revenue streams established through voter-approved sales tax increases that allow for more expansion projects to take place and for more transportation funding overall.
Please check out ADOT's recent news release, for an overview of major projects in Greater Arizona, the Maricopa Association of Governments (MAG) region and the Pima Association of Governments (PAG) region during the 2016-2020 Five-Year Program.
You can also view the entire plan, along with an outline on transportation planning on our website.