Flagstaff to host third public hearing for ADOT's Tentative Five-Year Program
Flagstaff to host third public hearing for ADOT's Tentative Five-Year Program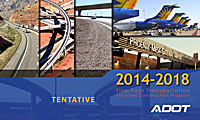 There's just one more public hearing for ADOT's Five-Year Construction Program and the meeting is coming up soon…
It's scheduled 9 a.m. May 10 at the Flagstaff City Council Chambers, 211 W. Aspen Ave., in Flagstaff.
But, don't worry if you can't make it. There are other ways to comment and there's still some time to give your feedback before the State Transportation Board considers adopting the final program at its June 14 meeting in Pinetop-Lakeside.
Just remember, all public comments must be received by May 17 to be considered by the Board.
If you'd like to give your thoughts on the plan, here are some options:
The Five-Year Construction Program is a blueprint for ADOT that details where, when and how regional, state and federal funding will be spent for projects over the next five years to improve our state's transportation infrastructure.
For more on the tentative program, you can check out our website to read the plan, view the how-to-read-it guide and learn more.