Freeway parade reminds motorists to 'Move Over'
Freeway parade reminds motorists to 'Move Over'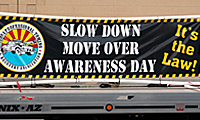 By Doug Pacey / ADOT Communications
If you travel through Phoenix on the morning of Saturday, Oct. 29, you might encounter a tow truck parade of more than 100 vehicles.
That parade, which will also feature first responder vehicles, including ADOT ALERT trucks, is the kick-off to the Arizona Professional Towing & Recovery Association's Move Over Awareness Day. The event aims to bring attention to Arizona's "Move Over" law, which requires motorists to move over one lane – or slow down if it is not safe to change lanes – when driving by any vehicle with flashing lights pulled to the side of a road or highway.
Tow truck operators in particular need the traveling public to know when to "Move Over." Nationally, one tow truck operator is killed every six days. In June on Interstate 10 near Benson, a tow truck operator assisting a stranded motorist was killed when he was struck by a vehicle.
On Saturday, some overhead highway signs in the Phoenix area will display a "Move Over" message.
FLASHING LIGHTS?
GIVE 'EM SPACE
MOVE OVER
Being a first responder to vehicle crashes and disabled motorists is dangerous work. On average, about 23 highway workers and one law enforcement officer are killed every month and five firefighters are killed every year in the United States. Drivers must pay more attention to their surroundings.